Root Cause Analysis elearning Course (e-RCA)
Learn the fundamentals of effective Root Cause Analysis
Teaches the fundamentals of good Root Cause Analysis
Is highly interactive, straightforward and without industry jargon
Can be accessed on most devices
Complements, enhances and consolidates existing RCA knowledge
Acts as an excellent foundation for new incident investigators
Helps even experienced investigators clarify the steps needed to get to the real root cause(s)
Has several animated case-studies with interactive exercises and knowledge and understanding tests
Provides a great opportunity to practise and perfect RCA thinking and this vital skill, fundamental to completing an effective investigation
Can easily be deployed across multiple devices; managers are provided with reports on the progress of their people
An effective learning tool to increase confidence and competence in Root Cause Analysis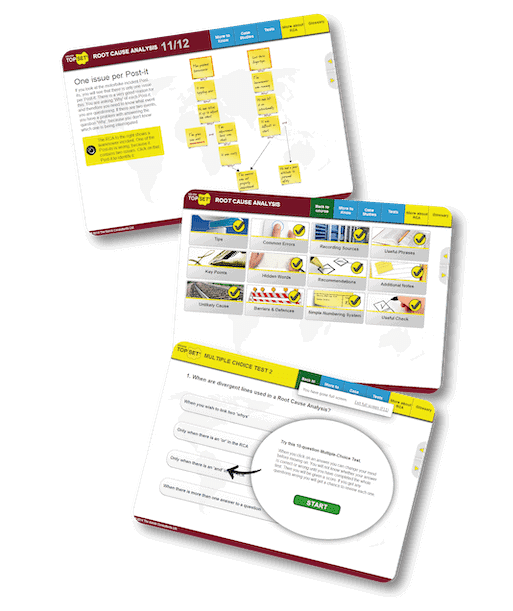 On successful completion of this course, delegates receive a Kelvin TOP-SET e-RCA elearning certificate and a separate CPD certificate for 3.5 hours of continual professional development.
Download the course brochure for in-depth course info >
"The course has far exceeded my expectations, both in the way it has been set out and in the way it is packed with informative, useful information. The content of this course exceeded any other e-training course that I have completed and I would definitely recommend this course to others. e-RCA is an excellent course which I thoroughly enjoyed. The course has been made exceptionally interesting for the learner and it became very addictive working through the scenarios."
Kevin Madeley, Amey
£90 (+VAT) for 90-Days' Access
New Corporate Administration Option
e-RCA now has Corporate Administration features for you to easily manage internal training.
Includes:
Easy-to-navigate dashboard
Ability to manage licence activation and deployment
Ability to setup subgroups (for different teams, business units, departments etc.)
Full reporting functionality (by individual and by subgroups)
Easy-to-export progress, performance and status reports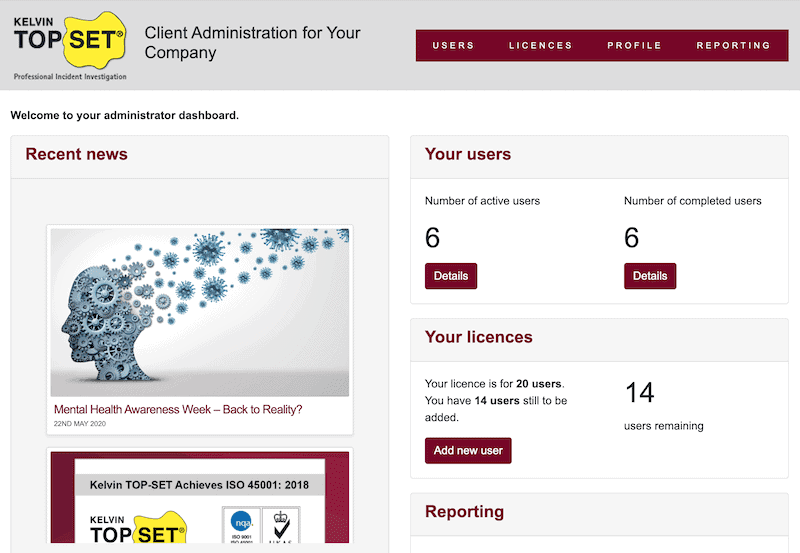 Please don't hesitate to get in touch with any questions, to make a booking enquiry or to arrange for a presentation to learn more, and our team will get back to you shortly.