e-Investigation Fundamentals
Learn from incidents, solve problems and prevent repeat occurrences
writing the Incident Statement;
writing the Terms of Reference;
using the TOP-SET Indicators to plan;
using the Storyboard with Post-its to record all aspects of the investigation;
how to run a good interview;
how to construct a Root Cause Analysis;
what to consider when making recommendations in the form of SMART Actions;
how to take action and ensure the actions are sustained.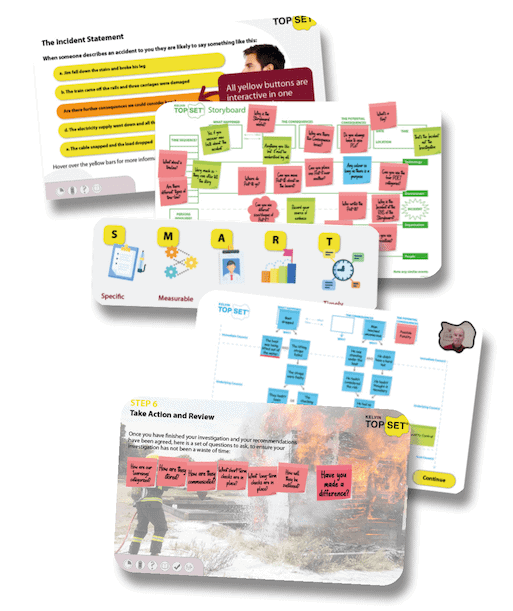 Two certificates awarded on completion – CPD (3 hours) & TOP-SET e-Investigation Fundamentals.
The above pricing is for a twelve-month contract. Delegates have ninety days to access and complete the course once invited to start the course. In this instance, e-Investigation Fundamentals is hosted on Kelvin TOP-SET's Learning Management System (LMS).
A SCORM compliant version is also available for companies to host on their internal LMS. Contact Kelvin TOP-SET for further information using the form below.
Save huge amounts of management time – teach all employees the fundamentals of sound incident investigation and problem solving to solve many of their own problems!
Please don't hesitate to get in touch with any questions, to make a booking enquiry or to arrange for a presentation to learn more, and our team will get back to you shortly.