Answer 'what happened' and 'how to prevent' in one go
Take your investigation one step further with IncidentXP
Kelvin TOP-SET is an official partner of Wolters Kluwer and reseller of the IncidentXP solution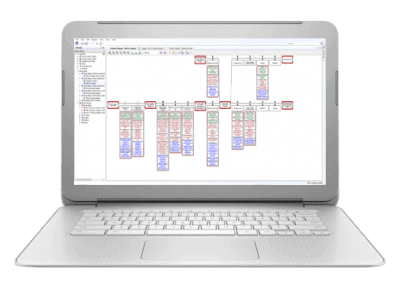 Organize evidence
One overview with all incident findings makes your work easier.

Choose your method
The platform supports 5 globally accepted incident analysis methods from, for example, DNV GL and Kelvin TOP-SET

Link incidents & risk assessments
Plotting the results from an incident analysis on a bowtie diagram ensures organizational learning.

Timeline
Some incidents can have an overwhelming amount of information. The timeline offers a diagram that structures an incident investigation and creates an overview in chronological order, making it easier to manage the investigation.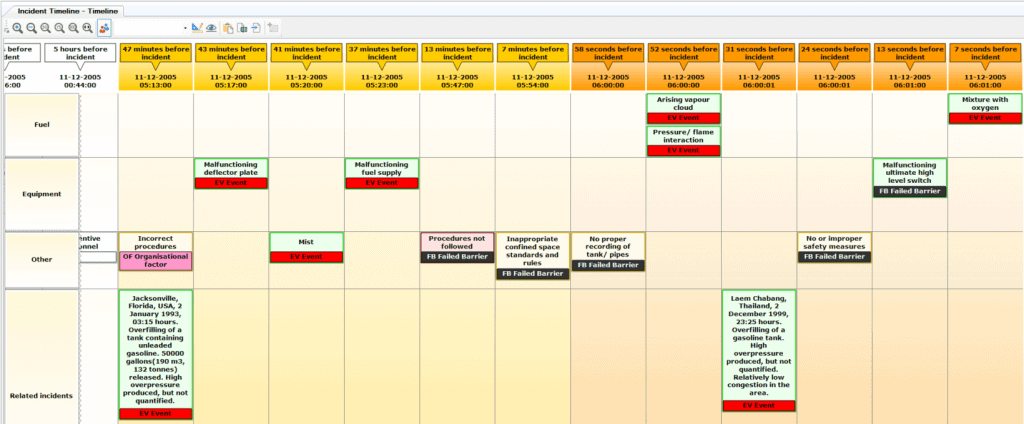 Investigate an incident by building a timeline and plotting events
The timeline in IncidentXP is a grid consisting of time on the x-axis, and actors on the y-axis. Actors are the major components in an incident. A person, a piece of equipment, a process, a management system or anything else that logically groups findings can be actors on the y-axis.
Once the facts are ordered in time and by actor, they can be assigned a confidence level and a category. The confidence level ranks facts by how confident we are that they are true. The category indicates where they are likely to appear in the incident analysis which follows the fact-finding phase.
Features
Quick drag & drop reordering of facts
Assess confidence levels of facts
Attach evidence to facts
Add colour to indicate meaning and increase overview
Export the timeline as a picture
Report the timeline in Excel or Word.
Incident manager
In IncidentXP a user may select one or more methods to analyse an incident and after this selection the analysis can start. From here, the user may choose to build up the diagram from the tree-view as normally done also in BowTieXP. Another option is to use the incident manager functionality which will guide the user through all the steps of the incident analysis. This easy to follow process ensures that a thorough investigation process is done and no steps have been forgotten.  At the end of the analysis process, a standardised report can be generated. This report can be based on a company template that adheres to the company standards.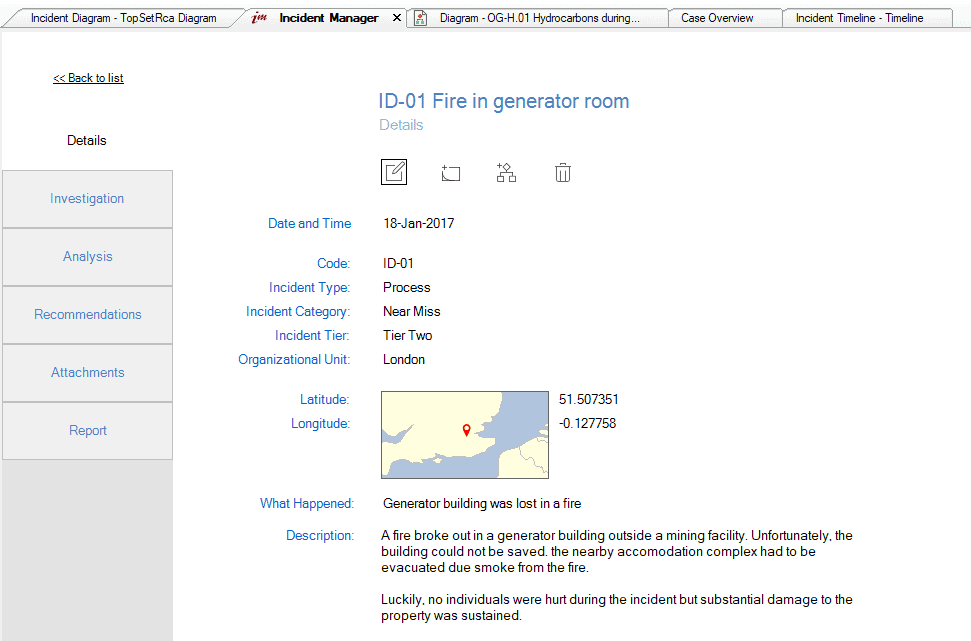 Manage incidents with the incident manager
Link with BowTieXP
Besides being a tool to analyze incidents, IncidentXP also allows you to use BowTieXP risk assessments to check if the investigation covered everything that was identified in the bowtie.
After this has been done, the final results link back to the bowtie risk assessment to aggregate and detect trends across incidents. This allows an organisation to maximise learning from incidents. It also ensures the bowties are continuously updated and improved. With this, IncidentXP allows organisations to take the next step in learning from incidents.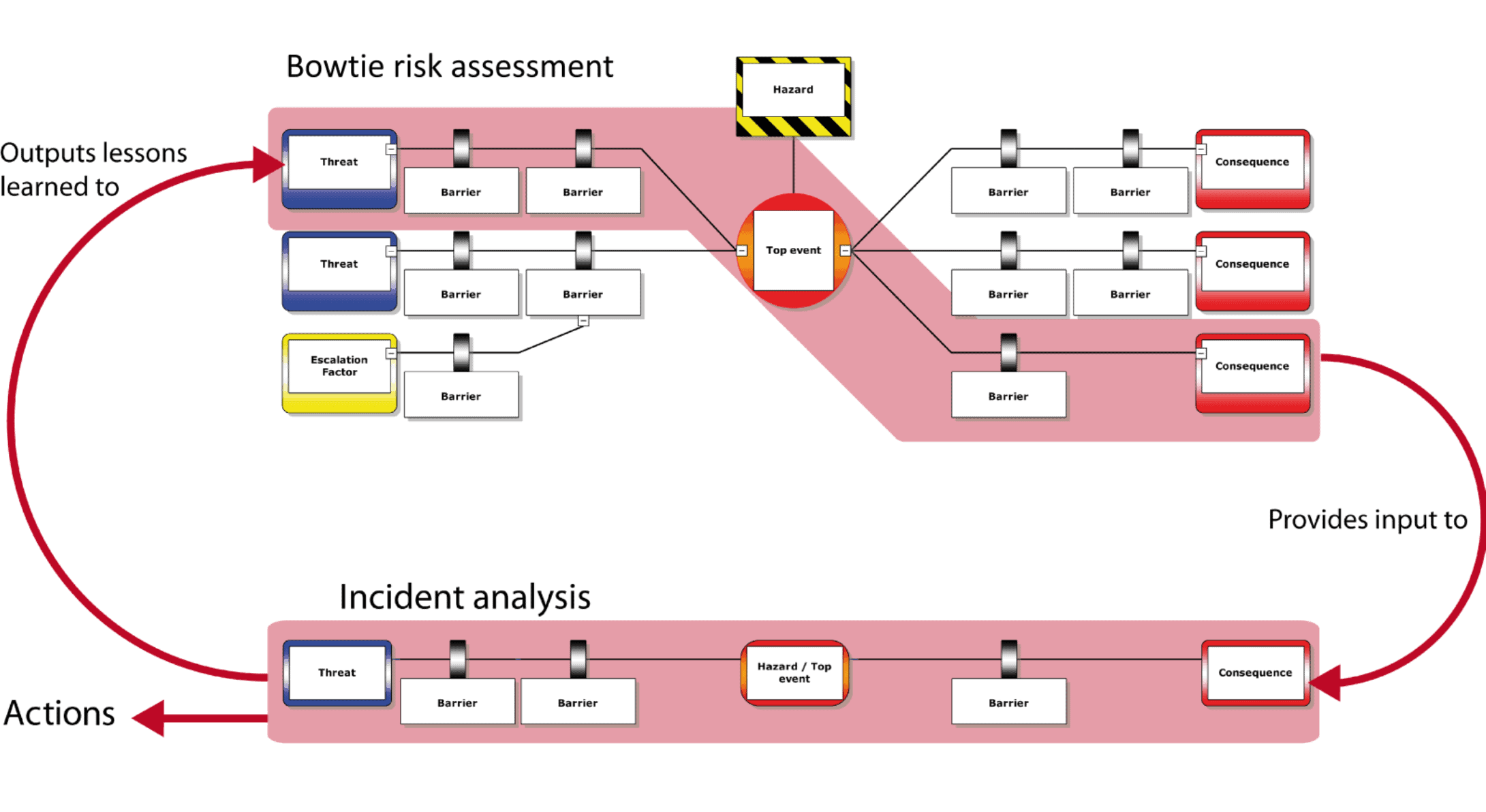 Link with SIR in BowTieServer
One of the modules in BowTieServer, Scenario-based Incident Registration (SIR), makes it easy to report an incident without going through an entire analysis process. SIR is meant to capture barrier data on incidents with medium complexity. Predefined bowties of common incidents and tailored questions help provide context and understanding while making the report. The result of the SIR is a list of failed barriers and the reasons why they failed. After that, the result can be further analysed if needed in IncidentXP with the incident analysis method of your choice.
Link with action tracking in BowTieServer
BowTieServer also offers an action tracking module, for managing 'lessons learned' as improvement actions. This will allow you to allocate, manage and track all your actions and recommendations. In this way, you can capitalize on the findings coming from your incident analysis.
Reporting from IncidentXP
After the incident investigation has been conducted through IncidentXP you may want to submit a report with the findings to management or to the relevant regulator. You can report information in a case file in various ways using the built-in reporting engine.
There are many different types of reports with different functionality and visualisation of the information. Based on the investigation or what a receiving party wants to see, you are able to choose style and content. It is also possible to integrate an already standardised company template into the IncidentXP reporting engine.
Want to learn more? Ask one of our product managers to do a free online demo.

IncidentXP logos and trademarks are the property of Wolters Kluwer and used by permission.